Welcome to Thai Mitsuwa Public Co.,Ltd.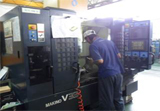 The company initially started operating with 80 employees and 6 molding machines mainly focusing on Home Appliances. With the sophistication of market needs actively becoming more multifaceted, the frequent demands have been increasing and have been growing to expand our business together with our customers both domestically and internationally.
Since then the plant has expanded to 1200 employees along with 125 molding machines and has well established throughout the Plastic Industry in Thailand, participating to take lead in products such as home appliances, audiovisuals, office automations, motorcycles, car mount audio equipment, both interior and exterior equipment for four wheeler vehicles, etc., and are working hard day by day to ensure a greater trust from the market.
In October 2003, the company was listed on the stock market of Thailand (MAI), To follow the footsteps in cultivating Frontiers, corresponding methods were brought in such as weld less molding injection, paint booths for UV and hard coating, as well is panels for car audio-visual equipment such as car exterior parts and car mount switches have been developed..
Quality Of Product
Quality Guarantee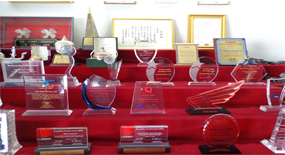 View - Award